Detention!
Tuesday, September 09 2008 @ 04:15 PM CST
Contributed by: Lorilee
Views: 2,707
A word that strikes fear into most students or at least did when I went to school. Detention meant missing after school activities. In Grade seven, my teacher tallied all the detention time through the week. On Friday, anyone who had to serve detention stayed after school. In case it wasn't bad enough to stay after school and mess up any after school plans, detention was spent writing dictionary pages. I never stayed for detention that year but I did have the misfortune of writing a dictionary page. One day the class was way too excited about something and noisy. We were so noisy that instead of gym time, we all sat in our desks and copied the page from the dictionary that had the word quiet on it.
Although I never served detention in grade seven, that does not mean I was always a model student. In grade 2, my friends and I disrupted the class often in various ways because we were bored. At one point the teacher got so frustrated she assigned homework. I remember being excited when I arrived home that I needed to write a short report on rainbows. In grade 9, I did not get along with my teacher. I thought some of the assignments we were given were stupid and school was boring. School was boring, I had been in an experimental grade 8 class where we were pushed to work harder. Once we finished our grade 8 material we started on grade 9. Then my family moved to the middle of nowhere. There was one grade 9 class and homework was almost non existent. The two grades were like night and day as far as expectations. Except for me. My parents still had high expectations but I had sloppy work habits and didn't want to work any harder than I had too. I mean why bother. I had detention in grade 9 but I was a bus kid so detention was served at recess and lunch. I had failed to hand in a social studies assignment on time and had to stay in until it was finished.
Beth Rimmer is trying to make detention fun. Her new kit by that name has many fun school related papers and elements. It looked so fun that I gave myself detention yesterday afternoon. I had to take a break from all my other tasks and scrapbook. Sounds hard right? Not exactly a normal detention and much better than writing dictionary pages. I used the time to create a back to school page for Victoria. I hope she never finds herself in detention and continues to approach school with eagerness.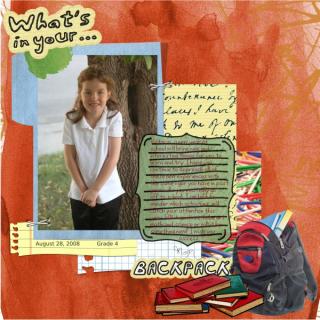 There is a co-ordinating mini kit available for those that participate in the Scrap Therapy challenge at Digitals this month. The challenge is to scrap about a teacher that impacted you. I chose to tell the story of writing dictionary pages in grade 7 and other challenges from that year. Now if only I had remembered some of those lessons from grade 7 when I was in grade 9, I wouldn't have had detention.