Elk
Tuesday, September 28 2010 @ 10:19 AM CST
Contributed by: Lorilee
Views: 557

I travel with three photographers. It means we stop often. It means my hard drive fills up with interesting, unique, blurry, weird and fabulous photos. Bruce has been working hard to weed out the blurry, less than ideal photos he takes in trying to capture the scene. The girls are just learning. Learning means more blurry, out of focus shots but also more excitement when they get an interesting photo.
Victoria is not afraid to change the settings on the camera. This creates some frustration for me since she uses my camera. My camera is a little point and shoot that Bruce got for me to carry in my purse. I don't need anything fancy. I just want to capture some of the fun things the girls do. I only know about exposure and aperture because my photographer and photographers in training talk about them. Victoria is teaching Kathryn to play with the settings. Kathryn uses our old camera. The first digital camera we owned. She is an enthusiastic photographer who fills the memory card (or did until we got her a larger card). She hasn't been taking photos long enough to know what won't work, so she tries all kinds of things. There have been times she has been rewarded with a really interesting photo by doing something that won't work. Maybe we should stop telling her that won't work and wait to see what she finds. Some of her pictures are going to be turned into backgrounds. They don't have any focal point or composition to give them interest. Instead they have fabulous texture and lines. I might just have to try designing some papers to use her photos in fun and interesting ways.
Imagine the excitement in our car when a group of elk decided to cross the road in front of us. We saw them beside the road early enough to pull over and watch. All three cameras were put into action. All three photographers had a different perspective and were interested in different things. Bruce got out of the car to photograph the bull. Because we were on the trans-Canada Highway, we did not let the girls get out of the car. They photographed from the back seat. Victoria got a slightly blurry photo of the bull in the middle of the road, bringing traffic to a standstill. Kathryn got my favorite photo of the day: the group of elk crossing the river.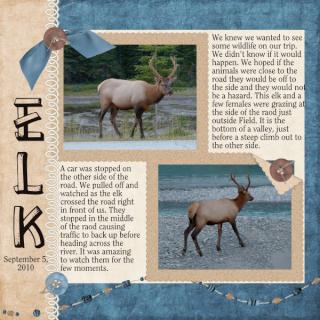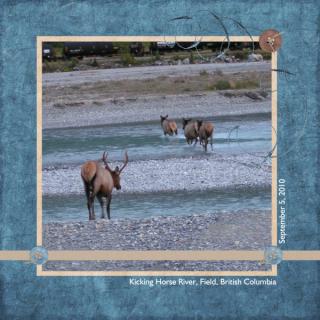 supplies:
kit: tranquility by Paula Yagisawa
fonts: Woodplank, Oxford, Gibralter