ARC: Life of Pi
Sunday, March 31 2013 @ 01:40 PM CST
Contributed by: Lorilee
Views: 1,626
An animal inhabits its space, whether in a zoo or in the wild, in the same way chess pieces move about a chessboard. Life of Pi
I was planning to read this book later in the year. At the end of February, I found out Victoria's class would be reading it for their classroom book clubs. I changed my plan even though I was mid-book on one of my other choices. I am grateful I decided to change my plans. Life of Pi is an easy read compared to the non-fiction I am currently digging into. It was just the change I needed.
I first heard of Yann Martel when he was writer in residence at our city library in 2003, two years after he wrote Life of Pi. I had no intention of writing more than mundane entries in my journal at the time. I paid little attention to the writer in residence. With two pre-schoolers, my reading was limited to Go Dog, Go and or similar books. Later, Mr. Martel, started mailing Mr. Harper books. I thought it was an interesting publicity idea and again paid little attention. Mr. Martel has since made our fine city his home. He has published another book, Beatrice and Virgil that seems to have receives mixed reviews. I intend to read it and decide for myself.
English is the language in which I best express the subtlety of Life. But I must say that French is the language closest to my heart. And for this same reason, English gives me sufficient distance to write. -- Yann Martel
Life of Pi is the journey of Pi Patel from India to Canada via Mexico. It is a journey the narrator claims will make you believe in God. It is a story about life and death because the two are inseparable. Life is so beautiful that death has fallen in love with it, a jealous, possessive love that grabs what it can. It is a story o questions, of growth and of change. It is unbelievable and yet enticingly real.
With vivid language, Yann Martel creates characters and scenes. He places us in the zoo. We feel the heat of the day and hear the animals. We enter the mind of Piscine (Pi) Molter Patel as he journeys through life. It was a journey I wanted to end well. I kept turning the pages to see what would happen to Pi and his companion Richard Parker. Two days after I started, my journey ended as I turned the last page.
I recommend this book with a caution. It is vivid and descriptive. Pi's journey is not an easy one. It might be too much for some. Kathryn has often read to the middle of a book then asked me to read the last chapter to tell her if it ends well enough for her to continue. For the characters in this book, the last page is merely the start of the next stage of the journey. There are clues throughout that point to the end and yet there are surprises along the way. I am not recommending this book to Kathryn until she can distance herself from the characters a little more.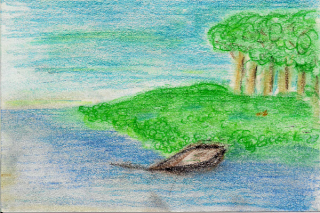 The island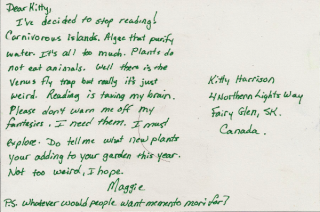 Maggie's note
The art challenged me this month. Animals are not a strength. Could I draw a tiger? Could I draw a sloth? Could I depict the island? My postcard characters were mysteriously silent. I chose to draw a chess game in progress or rather some pieces as they could be during game play because of the comparison between animals and chess pieces. I studied the memento mori art style and am considering an attempt at it. It will be a stretch for me. March has not been a month for stretching. There has been too much scheduled and unscheduled to try something so far from my normal styles. For a second piece I choose to depict the island using soft pastels and oil pencils. Once I started the art, I was able to coax my characters to talk to me.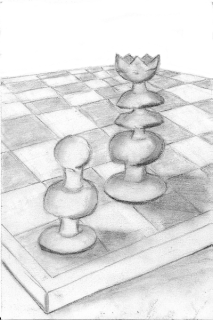 Queen and Pawn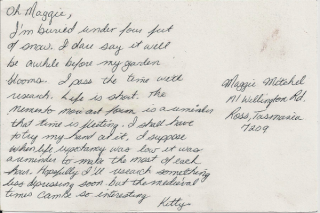 Kitty writes
There are a multitude of books inspiring art this month in the Artful Reader's Club. Some will be added to my reading list for next year.