Writer
Friday, April 04 2014 @ 01:38 PM CST
Contributed by: Lorilee
Views: 109
In January, I started setting some goals for 2014. They were to be stepping stones to bigger goals. They were designed to encourage me to practice skills. I want to continue to practice tings I have been working on. The goals were to encourage me to learn new things and try new things. One of the goals was to participate in the 5 Minute Friday flash mob of writing at least 26 times or every second week. I set the goal and following my normal habit, I ignored the goal. Now it is April and I have participated three times. Not a good start. Because I still think it is a valuable exercise and I still want to build my writing muscles, I return to the goal.
I am a writer. I am not a writer. I go back and forth as my confidence ebbs and flows. I struggle under labels. I like to tell stories. I like to encourage and teach. Does that make me a writer? I go for days where I ignore the pen and paper. I find tasks to occupy my time. Fear sets in. Who am I? Why do I think I can do this? Why should I do this?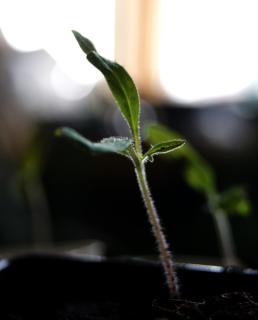 seedling
Then, bit by bit an idea comes. It has been triggered by an event, some reading or any number of inspiration points. My mind plays with it and the seed sprouts and grows. I have a choice. Do I water it and care for it or do I ignore it and let it die? There have been many ignored ideas. Sometimes, I think it has been disobedience. I don't want to write that! I don't want to be vulnerable, so I turn from the idea and in doing so I turn slightly from the source of all ideas. Then a block comes. When I continue to ignore and turn more blocks come. They build on top of each other building a wall. The wall separates from life and the life giver.
I am reminded gently, I don't do this on my own. It is a gift. I can embrace the idea or I can turn from it. I can accept the gift or I can refuse it. Today, I embrace. Tomorrow remains a mystery but I hope I again embrace.
Every good and perfect gift is from above, coming down from the Father of the heavenly lights, who does not change like shifting shadows. James 1:17