Saturday, May 19 2012 @ 10:30 AM CST
Contributed by: Lorilee
Views: 189
West Africa is a United Nations recognized group of sixteen countries . Most are also a part of the Economic Community of West African States. Mauritania is not. The sixteen states are Benin, Burkino Faso, Cape Verde, Cote d'Ivoire, Gambia, Ghana, Guinea, Guinea-Bissau, Liberia, Mali, Mauritania, Niger, Nigeria, Senegal, Sierra Leone and Togo. The region is bordered by the Atlantic Ocean and the Sahara Desert.
Instead of choosing one country, I researched the region. I found some common themes through the sixteen countries. West Africa is an area of political unrest and poverty. I found myself wondering how much those two themes are linked and which causes which. The area is often in the news for military coups and human rights issues. Child labour, human trafficking and slavery are common. Within the region there is a disparity between the rich and poor not only between countries but within. Life expectancy, literacy and health tend to be low. Infant mortality is high. Each of these coutries has their own challenges to face. Some are overcoming them. Cape Verde's people enjoy some of the best health in Africa with a life expectancy of 70 to 77 years. They also have a higher literacy rate than many of their neighbours.
My reading on this region was cursory at best. Some of the statistics are heartbreaking and yet in spite of this they continue. I find myslef trying to imagine living on $1.25 per day. I can't. Africa has a rich and colorful history. They have influenced culture around the world. It could be said they are still influencing cultures.
This week's postcard depicts a rural village in Cote d'Ivoire. Grass thatched huts, colorful textiles and drums are images I associate with Africa. The huts are a hold on history and the way things have been done for decades, even centuries. In the cities there are modern buildings of various shapes and sizes but in the rural villages tradition remains.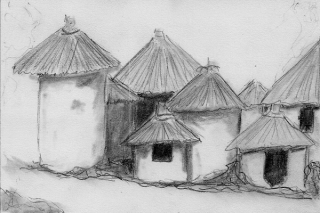 African village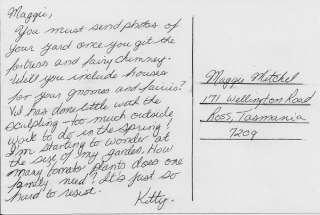 Kitty writes
Kitty is a deeper thinker than Maggie and oft gets frustrated by Maggie's seeming callousness. In the busyness of spring planting, she lets go of some of the depth or maybe she chooses not to toss her thoughts out for critique at this time. Instead Kitty's note is some light banter between friends about gardens and decoration. I wonder what the gardens of these two would look like if they actually collected the various artifacts that catch their eye.
Have you been following the stories at Art and Sole? There are still a number touring the world with us. Come see what we found.