Monday, February 25 2013 @ 10:15 AM CST
Contributed by: Lorilee
Views: 270
Forward. Backwards. Sideways. Movement needs direction. Running. Swimming. Shovelling. I have attempted to add regular movement to my life. These movements are easy to see Other movements are more difficult. Am I moving forward in other areas? I hope so but I am not sure how to measure it.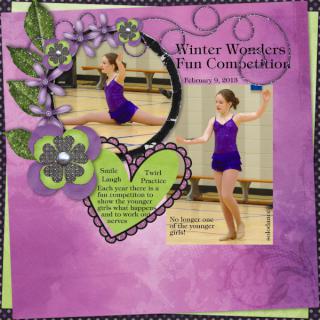 Fun Competition
I continue to create scrapbook pages and art pages. I create far fewer than I once did. A few years ago, I created a
digital Project Life
style album. I never printed it. By the end, Bruce and I were a little tired of the daily photo requirement. I liked the reference it provided for what life looked like in our family. The journaling was key for me. We started a second year because of the journaling habit it had formed. By spring I let it fizzle. That may have been a turning point for me with scrapbooking. Since then I have created fewer and fewer pages. At the same time, I have created more
art pages.
Journaling remains important. I have tens of thousands of photos on the computer. Some were taken primarily as art shots. Bruce and the girls all enjoy photography. Sometimes photos are taken as an experiment. Some of the photos document our lives. Without the words to go with them, it becomes impossible to tell which is which. Words are important!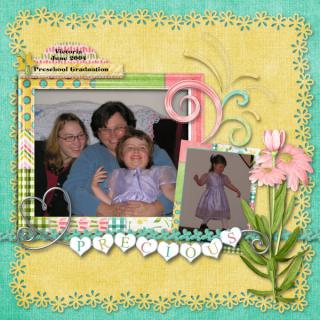 Preschool Grad 2004
My interest in words has led to other experiments using words. I have short stories in need of editing and story fragments needing a home. My art pages inspire stories and stories inspire art. What direction will these take next? I hope they move forward with improved art skill and word play.
Movement is hard to quantify in my creative endeavours. One of the biggest stumbling blocks to any movement goes with me everywhere. Doubt plants itself between my ears and asks for a free ride. The only direction I am certain of is doubt and fear need an eviction notice. That will free up space for creative play.