Wednesday, August 07 2013 @ 10:47 AM CST
Contributed by: Lorilee
Views: 195
The cousins had been waiting for a fondant decorating class all summer. Would Kathryn and Victoria like to join them? Five girls with artistic tendencies spending two hours for decorating. It sounds like a interesting way to spend the afternoon. With some trepidation on what to do with 5 8" cakes, we said yes. The catch: I had to take them to the class while my sister was at work. It was the first day we were in town. Would I get lost?
The girls learned to ice the cake and then cover it with fondant. After instruction on working with fondant, they were allowed to play and create. The result: five unique cakes starting from the same example. Each girl put some of her personality into the decoration. later that evening, we quizzed Nate to see if he could tell which cake belonged to which girl. Some he guessed. There were favorite colors and favorite patterns. I had the privilege of watching the last 20 minutes of the decorating session. The method of creating was as varied as the end results. Some worked with precision. Some experimented, often reworking a piece of fondant before placing it on the cake. Some worked slowly and methodically others watched the creation unfold in seemingly chaotic fashion. All were pleased with the end result.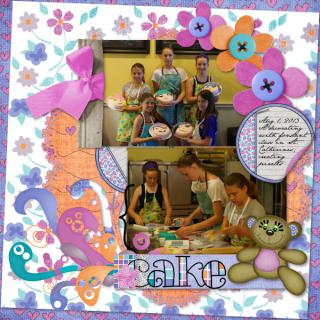 Cake
What would we do with all the cake? Eat it. With ten people to share the cake, it disappeared quickly. On Sunday we told Amee, since we could not join her to eat birthday cake with her, we would eat some for her here. Did Bruce and I get lost? Only intentionally as we explored the city of St. Catherines while the girls learned and played.