Friday, April 12 2013 @ 10:56 AM CST
Contributed by: Lorilee
Views: 342
... recovering from an ear infection
... working on a website for my Toastmasters club
... reading For Whom the Bell Tolls by Hemmingway and Antifragile by Nassir Taleb
... Waiting for the snow to melt
... preparing a speech for Tuesday. Practicing a speech for next Saturday.
... dreaming and planning a road trip. Niagra Falls anyone?
... making to do lists and ignoring them (as usual)
... looking forward to working at a writer's conference this weekend
... trying to find my missing creativity
... writing and editing short stories. Wondering what to do with them when I finish.
... wishing the house would magically clean itself
... setting goals and working towards them
... thankful for my full and varied life.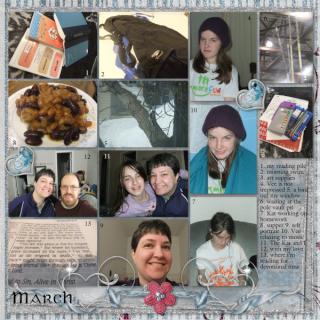 March 13, 2013 in photos