Tuesday, November 06 2012 @ 10:49 AM CST
Contributed by: Lorilee
Views: 164
I have been following the lead up to the US election from a distance. I can tune it out if I choose. I am not an American. I can not vote today. It will affect me. They are my neighbors. Some of them are my friends. I hear a lot of rhetoric. I hear a lot of anger (on both sides). It happened here during our last election as well. I wonder when did we move from discussing ideas to dissing people? It has me thinking about my words and plans.
Plans and words are merely empty thoughts and promises when not backed up with action. How many times have I told Bruce and the girls I will do something and then neglect to follow through. I might have a good reason for not following through but it still leaves that empty feeling. I let them down. I can't imagine the conflict and stress that comes from letting a larger group of people down. Maybe it isn't as bad. The larger the group the less personal stake there is. If I let my family down, I still have to sit at the supper table with them.
I have heard a lot about change. I don't think talk creates the change. I can talk all I want about a clean house but unless I pick up things instead of stepping on them it doesn't happen. I can talk about getting fit and healthy. If I then eat a chocolate bar change is happening but not that which I talked about. There are a few areas that I am trying to affect change in none are easy. All take time. There are a few areas I would like to see change in my city and country. Some are not even being talked about. I wonder will the change ever happen?
This weekend I attended an 'unconference'. One speaker challenged us "If you do what everyone else does, expect to end up like everyone else." I am rephrasing it for myself. "If you keep doing what you've always done, don't expect new results." We were challenged to think pro-actively and to take personal responsibility. How unusual. I regularly hear complaining (including at the grocery store this morning) about problems caused by everyone else. I do it too. I don't want to do it. I am working on turning my talk into plans of action. Even before the plan is fully in place, I can take steps to change. I need to take responsibility for my thoughts and actions. Can I change my country? Probably not. I don't want to be a politician. I can change me and my family. I can influence my community. Enough people living a life of integrity and taking responsibility for what they can do might change the world, even if we disagree on what the world should look like.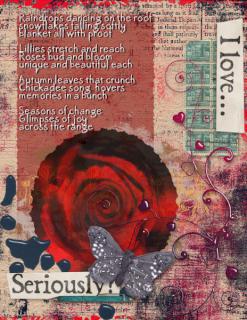 I created this art journal page this weekend. We had freezing rain and a forecast of more freezing rain. I was tired. I was working on information overload. I did not wan to fall into the trap of complaining. Seasons of change, glimpses of joy across the range. There are so many things I could have included that I am thankful for. So many blessings that get overlooked in the midst of complaint. This art page is one step in my action plan of change. I had to stop and think about my blessings.
What changes do you need to make? What blessings do you have? What step can you take today on a journey of change?