Tuesday, January 08 2013 @ 03:48 PM CST
Contributed by: Lorilee
Views: 102
A new year offers an opportunity to reflect on what was and what is to come. I have seen many posts over the past week with plans and goals for 2013. I waited. In a very real sense my new year starts 5 days later than everyone else. It is a new year of my life. This year, I found myself reflecting more than others. Bruce's health scare might have prompted it. Challenging myself and succeeding may have contributed. In any case, I find myself reflecting and pondering the year to come.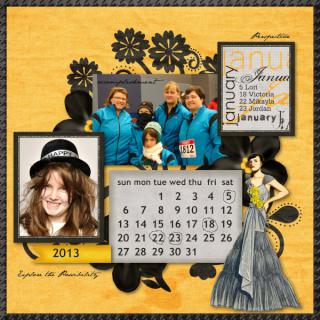 January
I am working on setting some goals. It is a stretch. I still do not like goal setting. I do not want to stand still though. I want to build on the fitness habit I have started. I do not have a goal yet. There are a few opportunities I am considering with my running group. In the meantime, we are going to continue running 3 times a week. We want to gain speed and maintain or increase endurance. We have discussed adding swimming since two of us are now dealing with injuries or the remnants of injuries. The next event we are considering is not until May or June. We have time to build endurance and health.
I am reading. I love to read. I have read three books already this year including my first book for the Artful Readers Club. I have been thinking about art possibilities for the book. I have a few different ideas. In the meantime, I am thinking about what I want to learn and accomplish with artistic expression this year. Just like with my health, I do not want to stand still. there are many things I want to learn. The difficulty is narrowing it down to a few things to focus on.
In order to meet any of the goals I am considering, I need to organize my life. I spend way too much time looking for things and tripping over things. Bruce and I started with a mini re-organization of our bedroom. I now have a writing corner with a rocking chair and fireplace. the other corner on that wall has our exercise gear. The re-organization has made better use of the space and we no longer feel enclosed. Slowly over the course of the year, I plan to make similar changes around the house. I hope by reclaiming the space and time I will be able to achieve my goals.