Thursday, February 28 2013 @ 10:02 AM CST
Contributed by: Lorilee
Views: 662
The month of February has passed in a blur. Blink. It is gone. I wonder how long the busyness will last. How and when did life speed up? It becomes hard to focus when life speeds by but focus I must. I don't want to miss the most important things, the memories we are making as a family.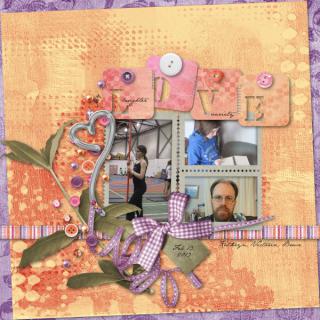 Love
I am blessed. Much of the busyness is due to choices we have made. We have choices. So many people do not have choice. I can grumble and complain at the results of my choice. If I choose that, I lose the blessing that comes in the middle. I also have the opportunity to change my choices. Sounds easy enough to change and compared to much of life it is easy. Bu tit is hard. It is hard to be thankful when it is -40 again. It is hard to be thankful that it snowed again. It is hard to be thankful at 5:30 am when it is cold and dark as I head to the pool.
Give thanks in all circumstances; for this is God's will for you in Christ Jesus. 1 Thessalonians 5:18. I am not thankful for my twisted knee. I am thankful that I can stretch it and strengthen it. I am thankful I can walk if I am careful. I am thankful that Bruce and the girls are willing to help. I can be thankful in spite of the circumstances that threaten to drag me down. With a sore knee and the need to be careful with it, I can sit and create without the nagging thought I should be doing something else. I can catch up on those tasks I have neglected as I race from place to place. It becomes an enforced slow down. It becomes a time to reflect and to dream, a time to contemplate my choices and plan for change.
As February draws to a close, I am thankful for the choices available to me. I am thankful for my family. I am thankful for the memories we have and the memories to be made.
What are you thankful for today?