Wednesday, February 27 2013 @ 06:02 PM CST
Contributed by: Lorilee
Views: 259
Some love it. Some hate it. We hear repeatedly those who do not learn from history are doomed to repeat it. What if there are parts we have lost and need to regain? History class in school was often boring. We jazzed up the dates with ditties like "in 1492, Columbus sailed the ocean blue." The rhyme helps me remember the date all these years later. My father was a history major in university. Family vacations showed a very different glimpse of history. No longer did we have to memorize a list of names and dates. We toured forts and museums. Actors in period costume re-enacted major events in history.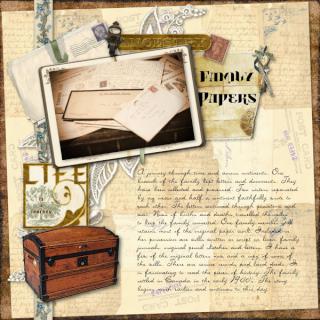 Family Papers
A few years ago, my mom came home from a family reunion with a photo album and a stack of letters. She was transporting the letters to one of my grandmothers cousins. The photo album is from the 1880s in England. The letters are part of a decades long correspondence between sisters. One sister lived in England. One migrated to Canada. The letters gave an entirely different glimpse into history. They lived the events we learn about. It is quite something to read a letter written in England during the war. Mixed with news of the war is information about the garden and neighbours. From 1905 to the 1960s the letters trace the journey of the sisters in their communities. They are not writing about history but rather the everyday they find themselves part of.
There is a box in my basement. It contains letters written to me from my grandmother. I was away at school. Every week a new letter arrived. It contained news from home. I sometimes wish, I had been as faithful writing as these sisters or my grandma. For now, I periodically dig out these letters and glean bits about what life was like when our province was brand new. The story of history is so much more interesting than a list of names and dates. Thankfully some took the time to record the story as it happened.