Tuesday, January 15 2013 @ 11:22 AM CST
Contributed by: Lorilee
Views: 237
This weekend we were helping Victoria with art ideas for homework. All of a sudden Bruce exclaimed, "That's what!" and disappeared into his office. He has a hiding spot somewhere in the office. If I was determined to find it I could but that would ruin the surprise. This was an extra surprise. Christmas Eve and Christmas morning he mentioned thinking he forgot something. I had no idea what it could be. Now I do. He had picked up a set of soft pastels for me. I had expressed interest in trying them. Now I can.
Bruce also set up a still life with some of the citrus fruit in the house. We are enjoying the abundance of in season produce from warmer climates. The girls are sure I have lost my mind. Last year I planted some clementine seeds. Two plants are doing well and one is struggling to hang on. Spurred on by that success, I planted a few more seeds. This time three grapefruit seeds, three blood orange seeds and some pink orange seeds. The pink oranges were the tastiest of the bunch so far. I hope one of each survives. The girls may be right. It seems a little unusual to be planting tropical fruit on a day that is -30C. Nevertheless, I continue to try new experiments.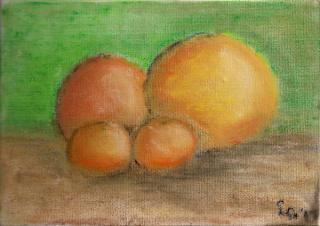 Citrus family
Four pieces of fruit were rescued from the plate for a week. I have also been asked to pick up a lemon and lime. Victoria is working with watercolor pencils and creating her own still life. I am curious to see how hers turns out. I decided the family of four fruit was just right to try my new pastels. If I followed all the 'rules' I would have added another piece or taken one out to keep an odd number. I didn't. I look forward to trying new things. I am thankful that Bruce continues to encourage my hobbies. I am thankful for the unexpected surprise this weekend. I think his timing was even better than he planned.