Monday, May 21 2012 @ 08:51 AM CST
Contributed by: Lorilee
Views: 305
The month of May has been a full and busy month and it is not done yet. This weekend we celebrate Victoria Day in honor of Queen Victoria who reigned 63 years and 7 months. It is also the time we celebrate the birthday of the current monarch of the British commonwealth.
As I have been reading in old family letters and journals, I have found a transcription of an extended article on Queen Victoria's diamond jubilee. Sixty years as head of the country was something to celebrate especially for a much loved Queen. She is the longest reigning monarch in British history. This year there are celebrations for another diamond jubilee. Queen Elizabeth II has been queen for sixty years. I am finding the current events are making the past reading more interesting.
Along with letters and journals, I have some old family photographs. I do not know the stories that accompany the photos. Some can be inferred by matching names and dates with journal notes if names and dates have been attached to the photograph. It reminds me to add story to my photographs. This week, I took one of the photos that has been scanned and used it as a jumping off point for my story. Earlier this month we celebrated Mother's Day. When I let my mind travel, unusual things happen. In this case I find my self thinking of the chain of Mother's going back through history. Each of us trains the next generation. We impact them for good or bad with our choices. Each carries pieces of us through the next generations. I have been impacted not only by my parents but my grandparents.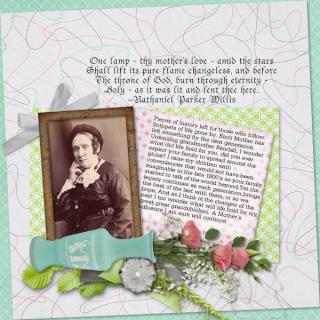 One Lamp
Jane Randall nee Hills lived in the mid to late 1800's, the Victorian era. The album identifies her as "Mother's grandmother Randall". How many generations seperate her and me? I am not sure. The Mother indicated was either my grandmother's grandmother or her great grandmother. Instead of digging out the charts and tracing the generations, I instead choose to ponder the changes that have occurred over time. I expect the world will be similarly unrecognizable extended into the future a similar time frame. Just like Great Grandmother Randall, I can impact those future generations by my choices. That is the reminder I gave myself with this page and the quote chosen to go with it.
Many in the artistic community around the web have been contemplating Mother's this month. Berry71Blue has a Mother's Day themed challenge and a number of thoughts on Mother's Day. Scrapping Everyday Miracles has also been talking about and scrapping about mother's. As for me, I am telling stories as I am inspired to do so whether it is the past, present or future. Relationships are the key to stories and Mother's will feature in that along with daughters and friends.