Friday, June 08 2012 @ 10:26 PM CST
Contributed by: Lorilee
Views: 330
For the last nine weeks I have been training for a 5Km walk/run this Sunday. Some days I recognise the progress I am making. Other days I wonder why I am doing this. What makes me think I can run that far? What makes me think I can run?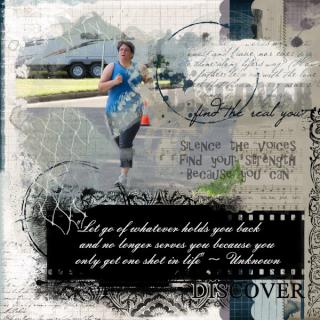 Let go -- discover
The last of the training is done except battling the negative voices. Today, I pulled out my art journaling kits and started working with some quotes. I have trained and I can do this but I need to stay positive.
The quote along the bottom speaks of throwing off that which hinders. I have a few more quotes along with songs and Bible verses. My goal is not to be blazingly fast. My goal is to complete the run with the pre-planned walk breaks. My plan is to finish well. My plan is to recognise that I have worked hard and to celebrate the success I have achieved.
It is my hope that as I deal with doubt in one area, it will help me deal with other doubts and fears. I can apply the lessons I learn with writing and art to running and vice versa. As I let go of my fears and doubts, I will be able to discover what I am capable of.